Even the most treasured vehicle starts to feel a bit old after awhile. Whether its declining quality in appearance or simply falling behind the times in terms of tech, every vehicle starts to feel stifling after a few years.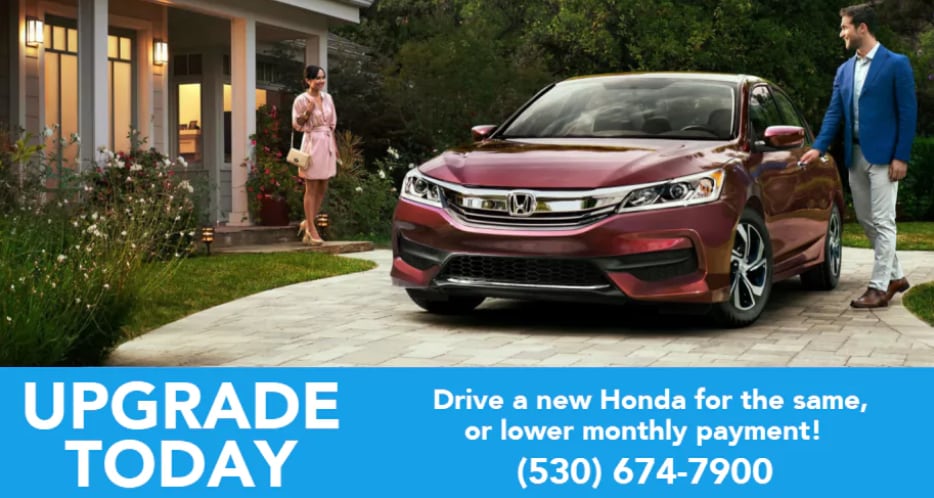 The good news is that Yuba City Honda has a simple solution to this problem. With our vehicle upgrade program you are able to swap out vehicles with virtually no change in your expenses, all part of a simple no-hassle process available only through Yuba City Honda.
How does it work? Bring us your used vehicle and our team of experts will assign it an above-market value. After you select your replacement vehicle, our financial specialists will craft a custom payment plan based on your trade-in value and current monthly payments. This means you leave our lot with the same payments as when you drove in, only with a better vehicle in the process.
Aside from the joy of receiving a new vehicle, there are numerous benefits to our trade-in process as well. Our vehicles have longer and more comprehensive warranties, 1 year of No Cost Maintenance and overall higher quality. Exchanging an older vehicle for a newer model typically improves your fuel economy while also expanding your safety, comfort and entertainment tech as well. Out with the old, in with the new.
Contact us for a no-strings-attached equity review and get an idea of what we can offer. We encourage you to visit our lot, located at 399 State Highway 99 in Yuba City, where you can speak with a member of our staff directly. Drop on by and leave in a brand-new Honda, its as simple as that!
Gridley Honda Lease Specials | CA Vehicle Upgrade Program